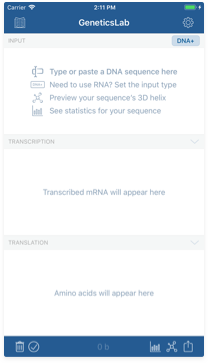 Your workspace
Work with both DNA and RNA sequences. Edit, format, print and share them easily. Start by typing or pasting a sequence and get instant results.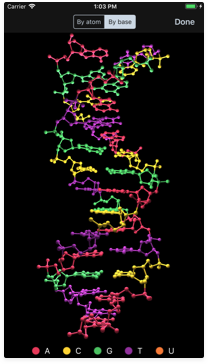 3D is worth a thousand pics
Just tap the molecule button near the bottom right corner and GeneticsLab will generate a 3D representation of the helix structure for your sequence.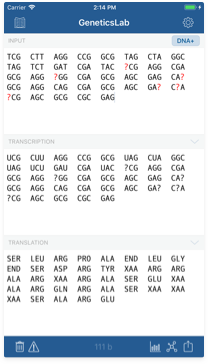 Format and find issues
Apply consistent formatting to your sequence and fix common input issues such as invalid characters, use of U in DNA mode or T in RNA mode.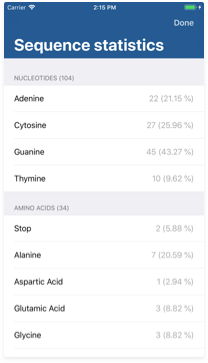 Statistics
Get nucleotide proportions in your sequence, either in absolute or in percentage units. Want to count the amino acids? You'll find them here, too.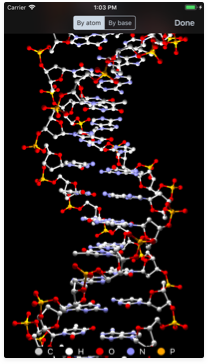 Experiment
Not only can you generate a 3D model of your sequence. Move it, rotate it and zoom into it to discover every detail. Different color schemes are available.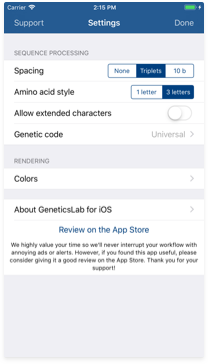 Do it your own way
Configure your spacing, amino acid style, target genetic code, extended character support or even choose your favorite colors for 3D modeling.
Compatibility
Requires iOS 12 or greater. Compatible with iPhone, iPad and iPod Touch.
Available in Catalan, English, French, Italian, German, Japanese and Spanish
Get it on the App Store